How to Design a Puzzle Feed Without Photoshop – With Canva! + Free templates
Make your instagram as cool as your creative work.
As a creative person, it took me a while to feel like I was in a creative place when it came to my own Instagram feed. I have always been focused on making good work, and you got to flaunt what you got, right? So, I looked through all these amazing accounts that have impeccable photos, captivating quotes, and they mash it into a cool theme that I had no idea how to obtain for myself. My artistic work wasn't really translating into my social media that much… Until I designed a unique puzzle feed for my illustrations. Ta dah! So cool, right? But also kind of a daunting task… Or that is what you'd think.
Well, fear not my friends! I created a free Canva template that you can use to do it yourself – even if you have limited experience with professional design software such as from Adobe 🙂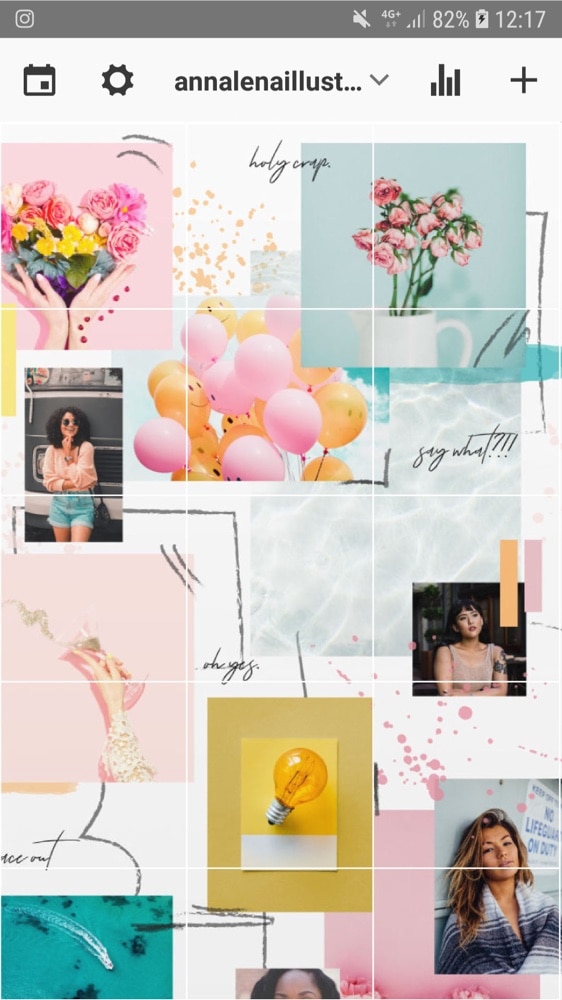 A little about me: I am Anna Lena van Iersel and I run an illustration + design business named Anna Lena Illustrations. Snappy right :). My mission as an entrepreneur is to help creatives max out their creative potential and learn techniques to become inspired, striving for that artistic dream life. No matter what it looks like! That is why I create these kinds of resources for you to download for free, for personal and commercial use. That means, you are allowed to use the template for your business but can't resell the template itself! 😉 The idea is to get EVERYONE going. Sharing in our artistic abilities is the one true goal.
In this article in collaboration with the lovely people from Preview app, I'm going to talk you through the steps you need to take in order to design a puzzle feed in Canva. Ready? Buckle up!
If you're unsure how to use Canva, check out the tutorials here. Please use Canva on desktop and not mobile because mobile is… frustrating. You will thank me later!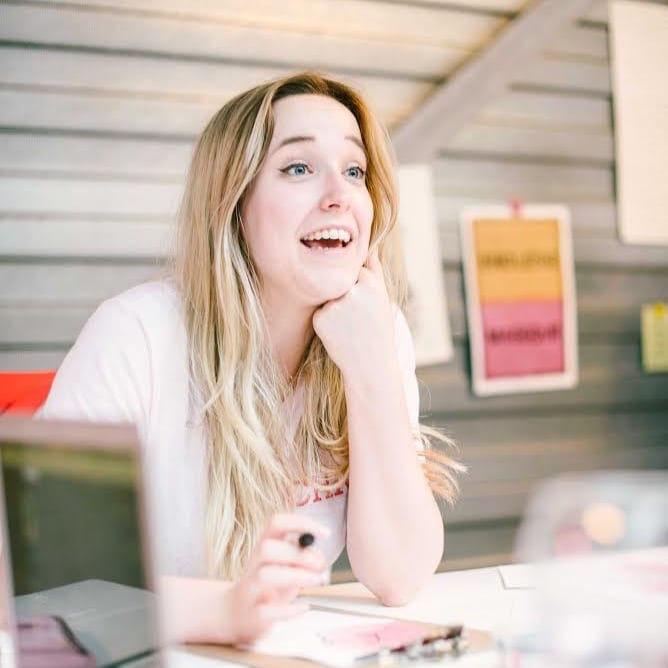 How to design a creative puzzle feed without Photoshop, using my Canva template
Here is how to do it in Canva:
1. Open Canva and create an account.
2. Before you go, it is important to note that you have to be careful with the template I created because people can access the template too. So first, click File > Make a copy!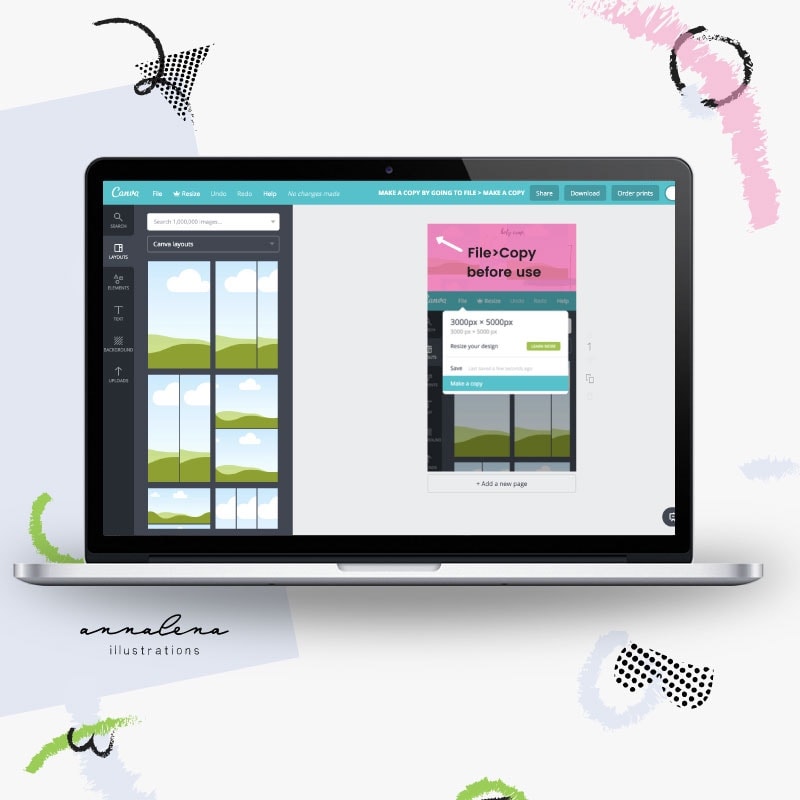 3. Follow the instructions here to use the ready made template I made you! It will lead you to a drive folder where I have a link to the Canva template, a PDF with instructions and even a free Adobe Illustrator template for the more experienced design people. This folder also has the placeholder images – in case you like those! Mind you, don't click edit but click 'use as template'!
4. You will now see the template with its editable elements. It also includes some elements that I made custom which you can't change in color. But, you can add your own elements and find customizable elements in Canva! ​This unfortunately is a limitation to Canva – but you are creative and can work around it!
5. If you click an element, you will see a little rectangle shaped menu that has all the modifiable properties inside. Be sure to check out Canva tutorials if you are still looking how to use it!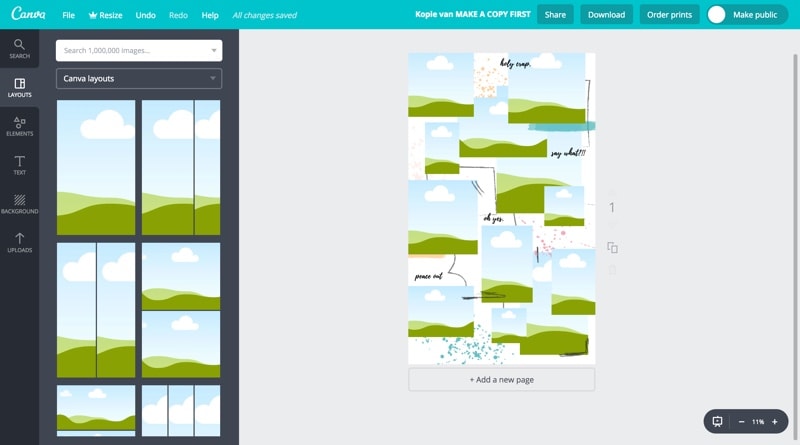 6. You can now change all elements and images to your liking. You can add in your own pictures in the image placeholders by first uploading your images and then dragging them in the template.
7. When you're happy, you can save the image by going to the 'download' button, which is at the top in the right corner of the Canva workspace. Select file type "PNG" (this works best in this case!) and hit download. YEE HAAA, you're almost there!
8. You have to then split up the image you created by going to an app that can split your photos in grids. There are a ton of apps that can do this, you can find them in the app store/google play and pick the one you like. I personally prefer splitting my images online (see next step!) because I think that gives me more control. If you are the app loving type, check out this iOS app and this Android app. If you want to use other ones, check out if they have 3×5 splitting options. First add your file to iCloud or Google Drive to be able to access it on your phone!
9. You can also do it using an online tool I found:
Upload the image in the upload box
Then select in 'options' 'Both- grid'
In output format say JPG
In 'vertically' type in 3
In 'horizontally' type in 5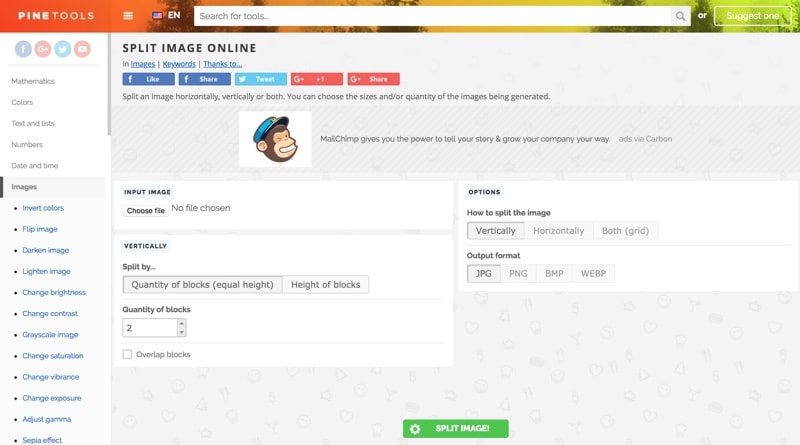 10. Click the green split image button. It will now split the images to your liking – feel free to play with it a little.
11. It will give you a list of split up images you can download one by one. Then put them on your phone using the cloud service you use!
12. Sort the images using Preview app 🙂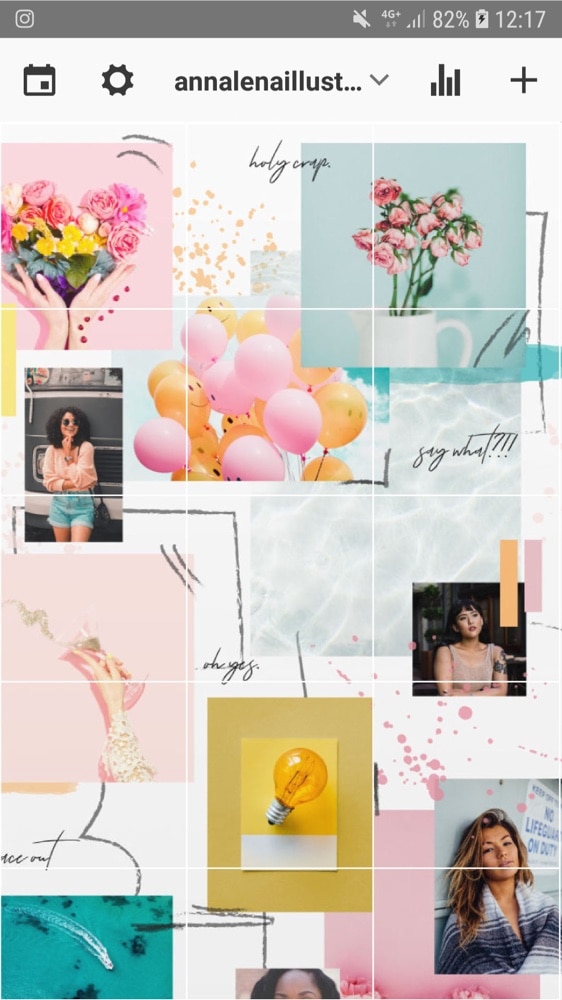 13. Get posting! 😀 Be sure to build suspense and wow your crowd.
14. When you use my template, give me a heads up so I can shout out your amazing work by tagging me @annalenaillustrations and using the hashtag #puzzlemepretty!
Let's make the world a little tastier.
As a designer and illustrator, making printables and concepts just like this is totally my thing. Wouldn't it be fun to work on projects like this together, and come up with illustrated goods for your business or event? Feel free to send me a message with any ideas you may have. Want to read more about me and my services? I have a page dedicated to just that. Check it out!